Thank you for taking your time. Currently, we are living in crazy times. The year shines masterfully between dejection and fighting spirit. You belong more to the fighting spirits, right?
Thorunn: yes, you are right. I 'm originally from Iceland and we can survive anything. Although I have to admit that my ancestors were tougher than I am today in my comfy life. They were chopping off heads and raping while I, their humble descendent, just need a digital detox from time to time, so I can deal with the stress of being available anywhere and anytime.
Congratulations on your new video "Home". Your first video release "Blanket of Sorrow" was already very intense. And now again. You show your darkest side?!
Thorunn: I know that we sound very sad and nostalgic, but we're full of hope.
After all, light is never perceived brighter than in the darkest moments.
Which is your favorite part or scene in the video?
Thorunn: I would rather want to know your favorite part? In any case, I would say the final moment, when I bid goodbye by holding my hand on the camera.
*Oh, I was deeply impressed – I could see how you were thinking and you showed it in your eyes and face.  And how you tried to control your temper (2:00). My heart was pounding. Intense!
"Home" is a very touching song. What does the song mean to you personally?
Thorunn: thank you. That's very kind of you to say. For me personally it means that whenever times get rough, I can always go home and lick my wounds. Family and friends crucial to overcome pain. They bring back happiness. Home is a feeling of being safe and taken care of.
Which message do you want to convey with "Home"?
Thorunn: There is no message, there is just a description of a feeling. We do not consider ourselves a political band that wants to influence how people think. We use audio to connect with our audience, hoping they can relate to whatever it is that we describe.
*Ah…, thanks that gives me a new perspective for the song as well as for future videos and interview questions.
For a band like you, who like to tour, it has to be hard not to be able to play live.
Thorunn: Of course, we are disappointed that we couldn't tour and meet our audience face-to-face. At the same time, we're safe and healthy, so there's nothing really to complain about.
Is there an artist / Band for you to look up to?
Thorunn: There are countless bands that we adore! But if I have to pick one, I would say 'Radiohead' is the one that we admire the most.
A question for Thorunn: Women in the music business. I would like to know your experience.
Thorunn: Much has happened since I was a child. Today I proudly call myself a postmodern feminist. Back then no one would have wanted to be called such a thing. If I remember correctly, that was a synonym of being ugly and 'not fuckable' (excuse my French :-)).
As if this was the only value that could be attributed to women. Being attractive for a man.
In 2020, armed with the recent 'me too' movement, you would think that people are less likely to consider women less talented than their male musician counterparts. But even now the first reflex of journalists, label and promotion agencies is to think that Mike writes and mixes all the songs. In their minds, I merely show up and sing Mike's lyrics. It goes to show that we are still far from true gender equality (not only in the music business). Although less today than a decade ago, I still get comments about having to wear sexy clothes. To this day, I have never heard anyone ask Mike to put on makeup or comb his hair.
Mike: No one wants to see that.
Thorunn: See what I mean? Discrimination goes both ways.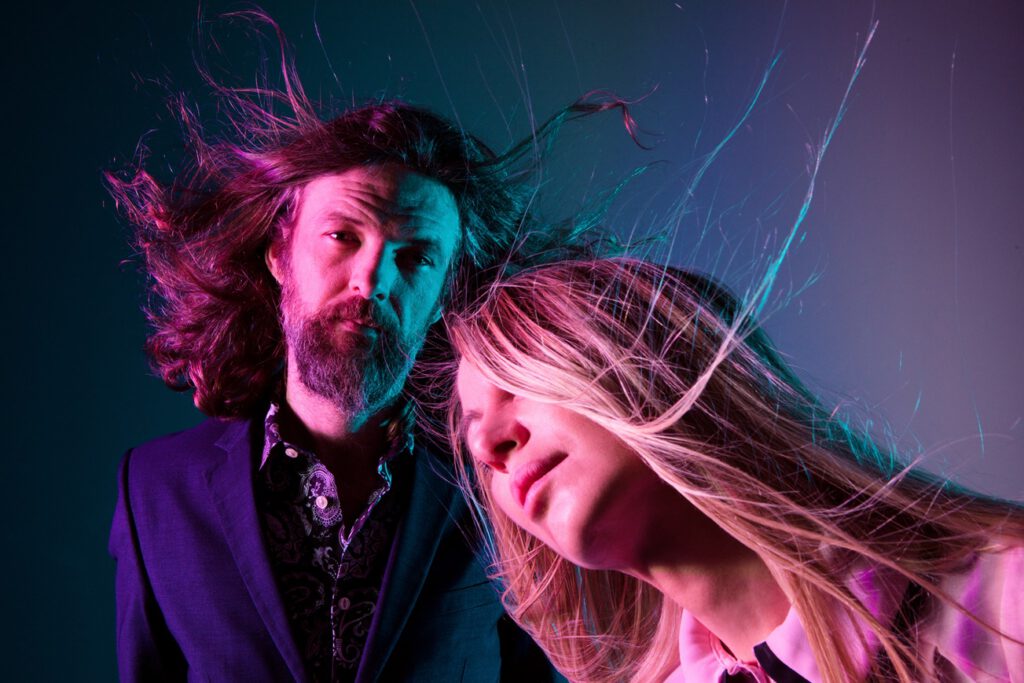 Do you have a big big big New Year's wish?
Thorunn: I worry about biodiversity and the health of our planet. I hope that many people will see David Attenborough's movie on Netflix and that the new American president will put his money where his mouth is. We need to speed up the sustainable shift. I have not eaten meat in 10 years, that's my contribution to this planet.
*I can understand very well and I appreciate very much. I'm a vegan.
And now, my favourite question, which I would certainly ask any artist: Which book or poem would you like to set to music?
Thorunn: Oh, lovely question. I'd say 'Candide', Voltaire's coming of age novel about a young philosopher who is disillusioned by the hardships of the world. This may sound dark to you but Voltaire's piece is actually very humorous. He ridicules humans in an intelligent way.
Not at all, because I read the book and I'm not giving it away.
"Hurry up, sir, to the table. We will not only pay the bill for you; we will also see to it that you never lack money.
After all, we humans are here to help each other."- Voltaire "Candide"
*It's so fitting!
One thing I would like to know: How did you come up with the lovely band name?
Thorunn: Sushi, silly girls and a lot of sake 🙂
*Hurry up to the table, I have very good sake in the cupboard 😉 Maybe once at a concert – that would be a dream. Thanks for the great, inspiring interview!
---
-Deutsch-
Derzeit leben wir in verrückten Zeiten. Das Jahr schillert meisterhaft zwischen Niedergeschlagenheit und Kampfgeist. Du gehörst eher zu den kämpferischen Geistern, richtig?
Thorunn: Ja, das stimmt. Ich komme ursprünglich aus Island und wir können alles überleben. Obwohl ich zugeben muss, dass meine Vorfahren im bequemen Leben härter waren als ich heute. Sie haben Köpfe abgehackt und vergewaltigt, während ich, ihr bescheidener Nachfahre, einfach von Zeit zu Zeit eine digitale Entgiftung brauche, um mit dem Stress fertig zu werden, immer und überall erreichbar zu sein.
Herzlichen Glückwunsch zu eurem neuen Video "Home". Die erste Videoveröffentlichung "Blanket of Sorrow" war schon sehr intensiv. Und jetzt schon wieder. Ihr zeigt eure dunkelste Seite!?
Thorunn: Ich weiß, dass wir sehr traurig und nostalgisch klingen, aber wir sind voller Hoffnung. Schließlich wird das Licht nie heller wahrgenommen als in den dunkelsten Momenten.
When 'Airy Met Fairy – Blanket of Sorrow
Welches ist eure Lieblingsstelle oder -szene im Video?
Thorunn: Ich würde eher wissen wollen, was deine Lieblingsstelle ist? Auf jeden Fall würde ich sagen, der letzte Moment, in dem ich mich verabschiede, indem ich meine Hand auf die Kamera halte.
*Oh, ich war zutiefst beeindruckt, denn ich konnte dein Denken sehen und das zeigtest du in deinen Augen und in deinem Gesicht.  Und wie du versucht hast, das Temperament zu kontrollieren (2:00). Mein Herz hat geklopft. Das war sehr intensiv!  
"Home" ist ein sehr berührender Song. Was bedeutet der Song für euch persönlich?
Thorunn: Ich danke dir. Das ist sehr nett von dir. Für mich persönlich bedeutet es, dass ich immer, wenn es hart auf hart kommt, nach Hause gehen und meine Wunden lecken kann. Familie und Freunde sind entscheidend, um den Schmerz zu überwinden. Sie bringen das Glück zurück. Zuhause ist ein Gefühl von Geborgenheit und Fürsorge.
Welche Message wollt ihr mit "Home" vermitteln?
Thorunn: Es gibt keine Message, es ist nur eine Beschreibung eines Gefühls. Wir sehen uns nicht als politische Band, die beeinflussen will, wie die Leute denken. Wir benutzen Audio, um uns mit unserem Publikum zu verbinden, in der Hoffnung, dass sie sich mit dem, was wir beschreiben, identifizieren können.
*Ah…, Danke, das gibt mir eine neue Sichtweise für den Song sowie für zukünftige Videos und Interviewfragen.
 Für eine Band wie euch, die gerne tourt, muss es hart sein, nicht live spielen zu können.
Thorunn: Natürlich sind wir enttäuscht, dass wir nicht auf Tour gehen und unser Publikum von Angesicht zu Angesicht treffen können. Gleichzeitig sind wir sicher und gesund, also gibt es eigentlich nichts, worüber man sich beschweren könnte.
Gibt es eine:n Künstler:in / eine Band, zu dem/denen /der ihr aufschaut?
Thorunn: Es gibt unzählige Bands, die wir verehren! Aber wenn ich eine auswählen müsste, würde ich sagen 'Radiohead' ist diejenige, die wir am meisten bewundern.
Eine Frage an Thorunn: Frauen im Musikbusiness. Ich würde gerne deine Erfahrungen wissen wollen.
Thorunn: Es hat sich viel getan, seit ich ein Kind war. Heute nenne ich mich mit Stolz eine postmoderne Feministin. Damals hätte niemand so genannt werden wollen. Wenn ich mich richtig erinnere, war das ein Synonym dafür, hässlich und 'nicht fickbar' zu sein (entschuldige mein Französisch :-)). Als ob das der einzige Wert wäre, den man Frauen zuschreiben könnte. Attraktiv für einen Mann zu sein.
Im Jahr 2020, bewaffnet mit der jüngsten 'me too'-Bewegung, sollte man meinen, dass die Leute Frauen weniger als weniger talentiert ansehen als ihre männlichen Musikerkollegen. Aber selbst jetzt ist der erste Reflex von Journalisten, Label- und Promotion-Agenturen zu denken, dass Mike alle Songs schreibt und mischt. In ihren Köpfen tauche ich lediglich auf und singe Mikes Texte. Das zeigt, dass wir von echter Gleichberechtigung (nicht nur im Musikgeschäft) noch weit entfernt sind.
Obwohl es heute weniger ist als noch vor zehn Jahren, bekomme ich immer noch Kommentare, dass ich sexy Kleidung tragen muss. Bis heute habe ich noch nie gehört, dass jemand Mike gebeten hat, sich zu schminken oder die Haare zu kämmen.
Mike: Das will doch keiner sehen.
Thorunn: Siehst Du, was ich meine? Diskriminierung geht in beide Richtungen.
Gibt es einen großen, großen, großen Wunsch für das neue Jahr?
Thorunn: Ich mache mir Sorgen um die Artenvielfalt und die Gesundheit unseres Planeten. Ich hoffe, dass viele Menschen David Attenboroughs Film auf Netflix sehen werden und dass der neue amerikanische Präsident seinen Worten Taten folgen lässt. Wir müssen den nachhaltigen Wandel beschleunigen. Ich habe seit 10 Jahren kein Fleisch mehr gegessen, das ist mein Beitrag für diesen Planeten.
*Kann ich nachvollziehen und schätze ich sehr. Dazu lebe ich seit sehr langer Zeit vegan.
 Und nun meine Lieblingsfrage, die ich sicherlich jedem Künstler stellen würde: Welches Buch oder Gedicht würdest du gerne vertonen?
Thorunn: Oh, schöne Frage. Ich würde sagen 'Candide', Voltaires Coming-of-Age-Roman über einen jungen Philosophen, der von den Härten der Welt desillusioniert ist. Das mag für Dich düster klingen, aber Voltaires Werk ist eigentlich sehr humorvoll. Er macht sich auf intelligente Art und Weise über die Menschen lustig.
*Gar nicht, da ich das Buch selbst gelesen habe und ich es nicht hergebe.
*"Hurtig mein Herr, zu Tische. Wir zahlen nicht allein die Zeche für Sie; wir werden auch sorgen, dass es Ihnen nie an Geld fehlt. Wir Menschen sind doch dazu da, uns gegenseitig zu helfen."- Voltaire "Candide"
*So passend…
Eine Sache würde ich gerne wissen: Wie seid ihr auf den schönen Bandnamen gekommen?
Thorunn: Sushi, dumme Mädchen und eine Menge Sake 🙂
Hurtig zu Tische, ich habe sehr guten Sake im Schrank. 😉 Vielleicht mal bei einem Konzert – das wäre ein Träumchen. Danke für das tolle, anregende Interview!
---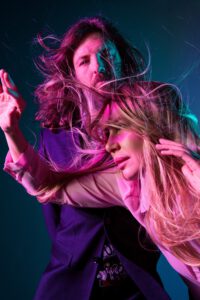 Wertvolle Links:
Homepage: www.whenairymetfairy.com
Facebook: www.facebook.com/WAMFmusic
YouTube: www.youtube.com/channel/UC9RL6hBG5NsfTUa4GqLtWUQ
Instagram: www.instagram.com/when_airy_met_fairy/?hl=de